LOCAL INDIANAPOLIS WATER DAMAGE COMPANY
Our most important asset is our reputation, and we take the quality of our work personally.
Call (317) 792-5987 For Immediate Service
About Our Crew
We Have 30+ Years Experience
I know what you're thinking, Restorex is a huge company run by corporate robots. In reality, nothing could be further from the truth.
Restorex is a small, local, family owned water damage company servicing Indianapolis and the surrounding areas. Our staff, of 7 employees, is very accessible and has over 30 years of experience in the industry. We specialize in working with customers dealing with water damage through the insurance claims process.
Being a small company has allowed us to adjust our strategies and techniques to provide what we believe is the ultimate customer service experience. A lot of those adjustments have led us away from industry norms that our competitors still practice.
Our primary goal is to evaluate water damage situations in order to provide our customers with the best advice possible. Restorex does this by informing our customers about water damage and insurance so they can be part of the decision-making process. We also do this by giving honest evaluations. This is different from other companies because the truth is not always what benefits us most, or what customers want to hear. Depending on the situation we can do the work, give free advice, or encourage the customer to look elsewhere for someone who can better fulfill their needs.
RESTOREX is a professional company, with highly trained employees on staff.
RESTOREX QUALIFICATIONS
Professional Memberships
BNI
Bloomington Chamber of Commerce
Monroe County Apartment Association
---
Institute of Inspection, Cleaning, and Restoration Certification (IICRC)
Water Damage Restoration
Odor Control
Fire and Smoke Restoration
Applied Microbial Remediation
Applied Structural Drying
Upholstery and Fabric Cleaning
Carpet Cleaning
Unsmoke System and Procedures
Fire Restoration Technology
Disaster Restoration
Odor Removal, Decontamination, and Disinfection
---
Indiana Air Management, Inc.
Mold Sewage Remediation
Advanced Mold Remediation
---
Drieaz University Course
---
Reets Drying Academy
---
Xactimate
Advanced Xactimate Certified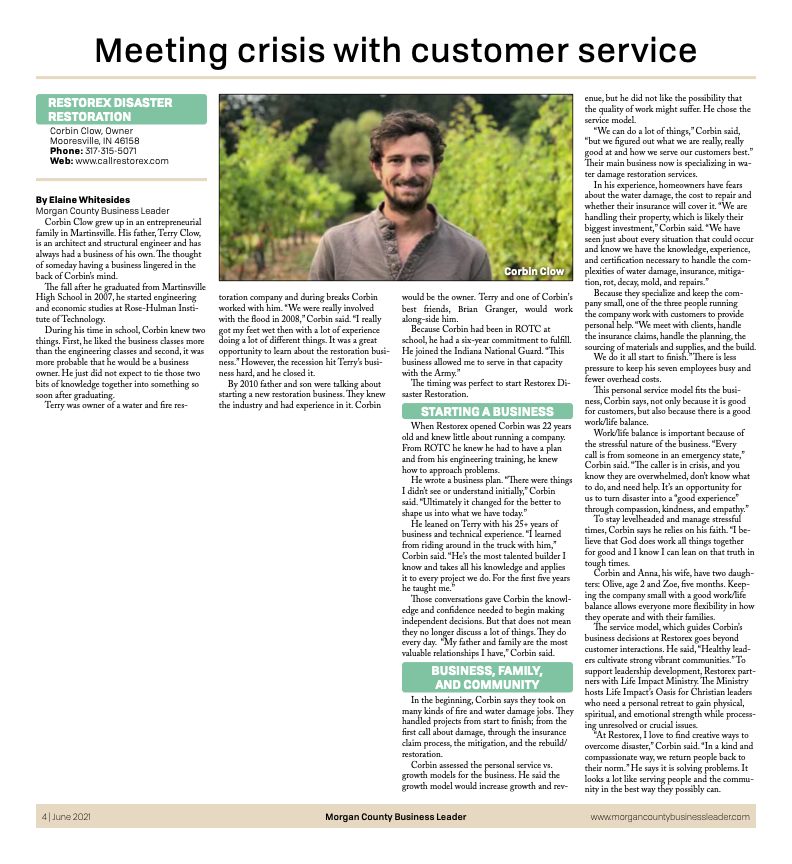 Our Promise To You!
THE RESTOREX PROMISE
RESTOREX agrees to maintain adequate commercial general liability, commercial automobile liability, environmental liability and workers compensation insurance.
RESTOREX agrees to provide all necessary tools, equipment, and materials to perform emergency services including board-up, temporary repairs, water extraction and drying, and other loss mitigation as required.
RESTOREX agrees to provide fully trained and experienced Project Managers, technicians and laborers to handle the particular type of emergency.
RESTOREX will work hand-in-hand with you throughout your entire restoration project.
RESTOREX will work with you and your insurance representative to provide an accurate, timely, complete estimate for your repairs.
RESTOREX will answer all emergency calls 24 hours a day, 7 days per week.
RESTOREX agrees to keep all information pertaining to the emergency confidential unless otherwise required by law, or for the protection of public safety.
RESTOREX guarantees response to an issue. We will never put you on a waiting list.
RESTOREX will maintain set pricing throughout our partnership.
RESTOREX will provide quick response for emergency needs.
RESTOREX will provide you with any information or materials to help you better understand your options during your project.