Flooded basements can be a big surprise to any home or a business owner. If there is significant water damage in a basement, it is time to get someone with the right expertise to help with the cleanup.
The amount of water that can be discharged into a flooded basement can be hundreds to thousands of gallons, depending on the size of the basement and it requires the proper pumps and vacuums to remove the standing water.
Restorex has all the necessary equipment to provide emergency services if you need basement water removal and flood cleanup.
FLOODED BASEMENT CLEANUP STEPS
The flooded basement cleanup process can be described in a few steps.
Replace or fix the sump pump
Remove standing water
Remove wet non-salvageable building materials
Set water damage drying equipment
Water Damage Repairs
The first 4 steps can happen quickly and be finished with 3 to 5 days. After the basement structure is properly dried out, we take care to get our customers as comfortable as possible until the repairs can be completed.
There is a delay between the dry out and the repairs to get estimates written and sent to the insurance company. Sometimes this can be a week or two before there is an agreed scope of work and the insurance adjuster releases the funds to begin the repair process.
FLOODED BASEMENT CAUSES
Most flooded basements are caused by sump failures or backups. A basement sump pump is a protection measure that is installed to remove the water from the basement foundation wall. This helps your basement walls not leak and last longer…. but this is also the weak point of the entire system because when the sump pump fails the water has nowhere to go except into the basement.
The first step in any basement flooding is to get an Indianapolis licensed plumber to check the sump pump and install a new sump pump if necessary. Restorex works with many local licensed plumbers and we can make a referral to a reliable Indianapolis plumber. Once the sump pump installation is complete, a lot of the standing water will be pumped out immediately. This is the water the sump pump would have normally removed from the foundation of the basement.
Now that the basement is protected from any future flooding, a professional water damage restoration company can begin removing standing water and setting up water damage equipment. The dry out process can last between 3 to 5 days depending on how the severity of the basement flooding and this consists of running dehumidifiers, fans, and heaters to remove the remaining water in the structure.
The water that backups into a basement is category 2 water. We always treat the carpet and affected building materials with a plant-based botanical disinfectant called Benefect. It a product that is naturally derived from essential plant oils.
Why do Sump Pumps Fail or Backup?
There can be a few reasons that a sump pump can fail or backup. The typical reasons we see in the field are below:
The sump pump float switch gets stuck-on debris
Rainfall overloads the sump pump and it can pump fast enough
Wind and Lightning Storms damage power lines and the sump pump does not run
Sump pump was past it lifetime and needed to be replaced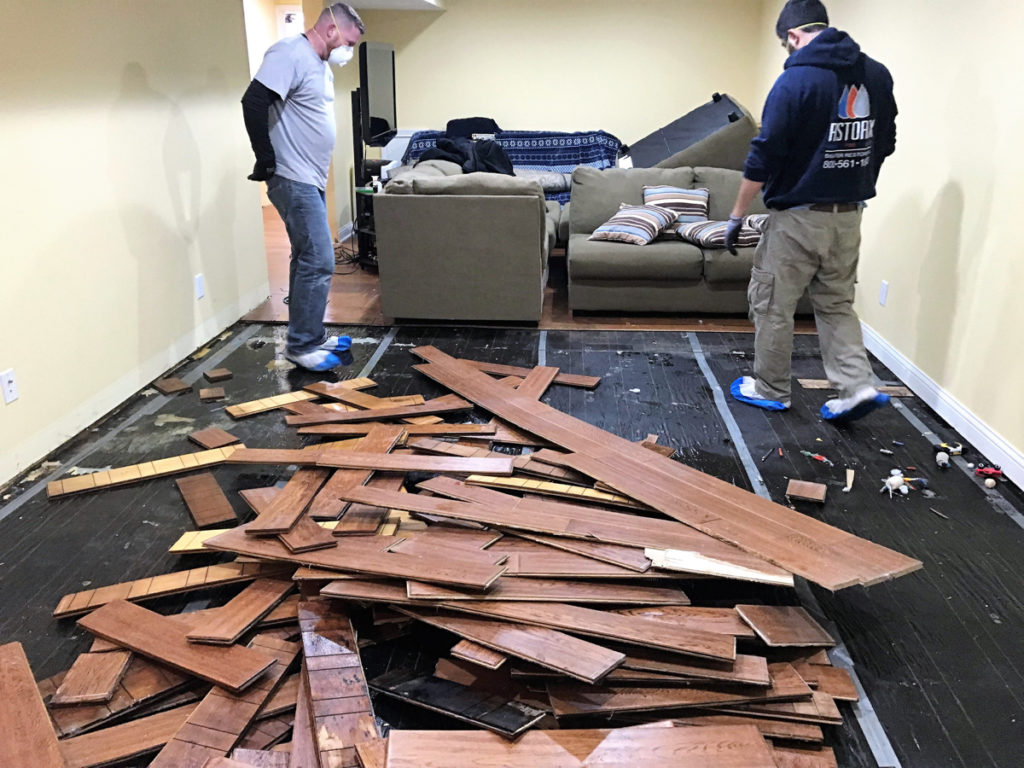 HOW LONG DO SUMP PUMPS LAST?
Sump Pumps can last typically 3 to 5 years. I know this seems like a wide range, but there are a lot of factors that go into the lifetime of a basement sump pump.  For one, it depends largely on the drainage of the property and whether it lies in a valley or on a hill. A low-lying property will require the sump pump to move water away from the basement more often causing it to burn out quicker.  Another reason for a pump for failing sooner than later is the size of the pump. If the pump is undersized for the basement it will run more continuously because it does pump as much volume as a larger pump. It is important to replace the existing sump pump with the proper size so that you don't run the risk of the pump not keeping up next time there is heavy rain in Indianapolis.
FINISHED BASEMENT FLOOD DAMAGE
Property owners who have finished basements will need to have their structure properly dried with water damage restoration equipment to prevent rot, decay, or mold damage. Restorex has helped many people in the Indianapolis area overcome water damage in basements.
A water mitigation company has all the necessary drying equipment to bring the wet building materials back to their original moisture content. Restorex Disaster Restoration provides all the water mitigation services needed to help our customers recover from a basement flood.
If you hire Restorex to help you with your flood basement cleanup, we can work directly with your insurance company to pay for the emergency services as well as the water damage repairs. If you need help with water mitigation services give us a call (317) 792-5987.
Can my basement carpet be saved?
One of the biggest questions we get from our customers initially is the carpet ruined or can it be saved…. It depends on how quickly we can respond to the basement water damage and what type of carpet pad is installed. We can dry carpet in place if the conditions are right and if there is not a moisture-resistant carpet pad installed. Initially, we like to dry the carpet in place because we don't want unnecessarily require our customers to if our customers have limits on their policy or do not know if their insurance adjuster will pay for the replacement of the carpet and pad. We believe this gives our customers better options when it comes time to complete the water damage repairs. We make sure to treat all of the floorings with Benefect and will run a HEPA air scrubber and Hydroxyl machine to help filter the air in the basement during the flooded basement cleanup.
DO I NEED A PROFESSIONAL WATER MITIGATION COMPANY FOR AN UNFINISHED BASEMENT?
An unfinished basement can be easy to dry out once all of the standing water is removed. Typically, a property owner gets their sump pump replaced and a lot of the standing water will be removed by the new sump pump.
Once the water is removed a homeowner could use a broom to push the water to the sump pit and then use small fans and a small heater and dehumidifier to dry out the remaining moisture on the concrete slab.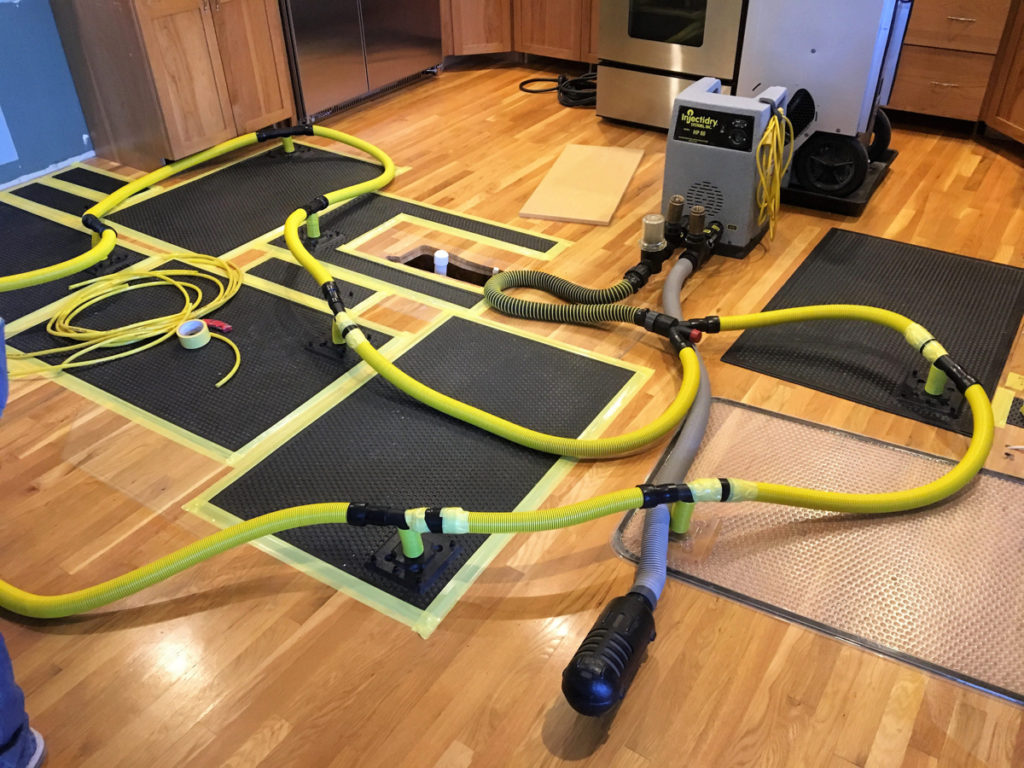 FLOODED BASEMENT INSURANCE COVERAGE
Insurance coverage for flooded basements can be limited depending on your insurance carrier and your policy. We try to inform all our customers, before we begin any emergency services, what they should ask their insurance company about their coverage.
We believe it helps us and our customers to know the specific details of their coverage before we begin. It is always better to have some peace of mind in the midst of a water damage disaster knowing that all the damage or most of the damage will be covered by your insurance company.
We like to reassure our customers that if they have the proper insurance coverage, the only out of pocket expenses should be their insurance deductible.
Call Restorex Disaster Restoration Today!
A flooded basement can be very disruptive and Restorex wants to sincerely help our customers overcome their disaster in the most efficient and careful way possible. We try to inform them as best as possible upfront so there are not any surprises along the way.
Restorex has a reputation for taking good care of our customers. We believe that our reputation speaks for itself and we try to do the best we can for every property owner. If you need an expert water damage restoration company to help you with your basement flood give us a call (317) 792-5987.