WATER DAMAGE FROZEN AND BURST PIPES: WHAT TO DO
Your pipes have frozen and cracked. Now your home is flooded with icy water. It can be enough to make you panic. But if you take the right steps, right away, you can minimize the damage to your home – and to your wallet.
STEP ONE
Find the shut-off valve for your entire house, and shut it off.
You can usually find it in the laundry room, basement, or garage.
Next, pick up the phone and call Restorex. We'll assemble a team to help right away.
First, we'll call one of the plumbers we work with regularly to come isolate the damaged area, and repair the broken pipes. This will allow you to turn your water back on in your home without risk of further damage.
Then, we'll schedule our teams to come out and help you deal with the damage.
This is also the time to call your insurance agent and notify them you have discovered the leak, and called a mitigation team to get started. This is important, because it will help establish that you are taking active steps to minimize the damage.
STEP TWO
Set the mitigation process in motion.
This is the most important phase of addressing damage due to frozen pipes.
Our crews will come to your home and make sure all standing water is removed, and begin the drying process – which usually takes 3 to 7 days.
The drying equipment is noisy, and hot, making this the most uncomfortable part of the process for you. But it is also the most critical part of the process.
If you have merely drained the water away and fixed the broken pipe, you might think you can delay on this stage. But failure to begin a formal drying process within a week of the initial frozen pipes leak will put your home at risk for the development of dangerous mold.
To get the best possible reimbursement for your frozen pipe damages, most insurance companies like to see that immediate action has been taken.
The drying process will also involve the removal of any drywall and carpeting and flooring that has been ruined by the water damage. Then we can begin to salvage what is left.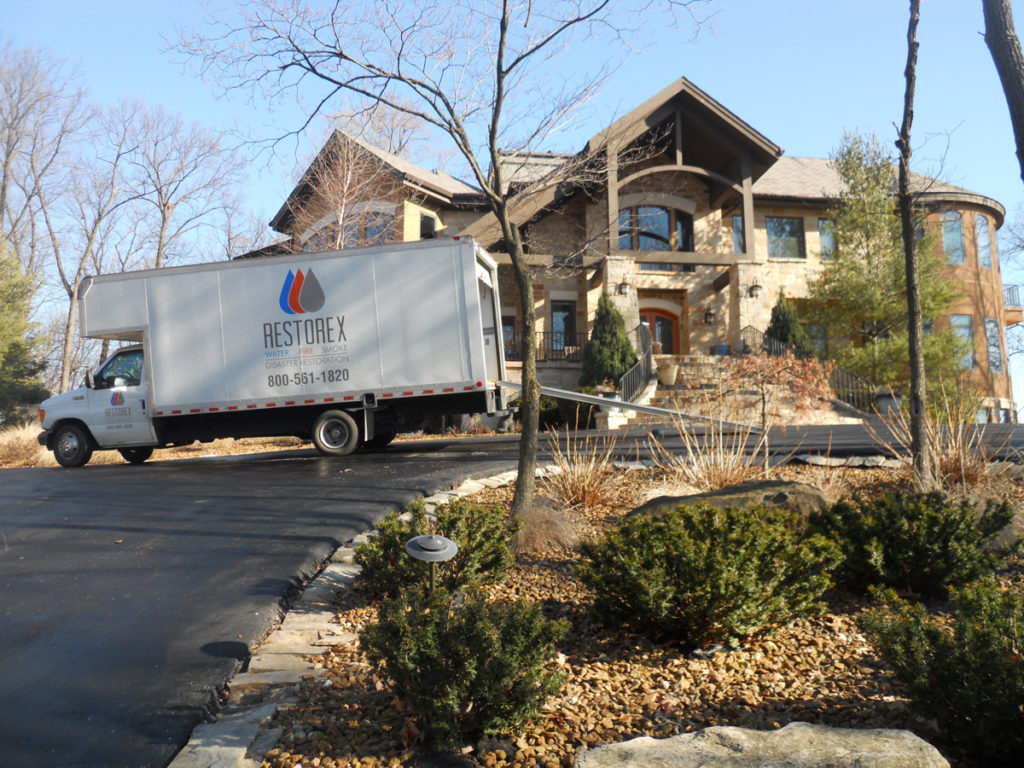 STEP THREE
Set a plan with your insurance adjuster for restoration.
After adequate drying eliminates the possibility of mold damage from your frozen pipe leak, the process of rebuilding and restoration can begin.
This is the point where most insurance field adjusters like to make a visit, inspect the damage, and discuss a plan for restoration. They will review and approve the plan, with specifics about how much they will pay to repair the damage.
We provide you with an estimate generated with the Xactimate estimating system, the system most widely accepted by insurance companies. We send a bill to the insurance company based on what that insurance company has agreed to pay. You are generally only responsible for your deductible.
And while insurance plans vary widely, in general, most insurance policies will require you to pay for the repair of the initial frozen/broken pipe that caused the water damage.
STEP FOUR
Let the rebuild process begin.
The amount of time we spend in your home, of course, depends on the severity of the damage. But you can rest assured, our teams will get your project scheduled promptly. We can handle everything from rebuilding drywall, to putting in new flooring, to painting and significant rebuilds.
Frozen pipes can certainly feel like a disaster – but they don't have to be a catastrophe if you get the right help.
So if your frozen pipes leak or burst, contact us for immediate service.