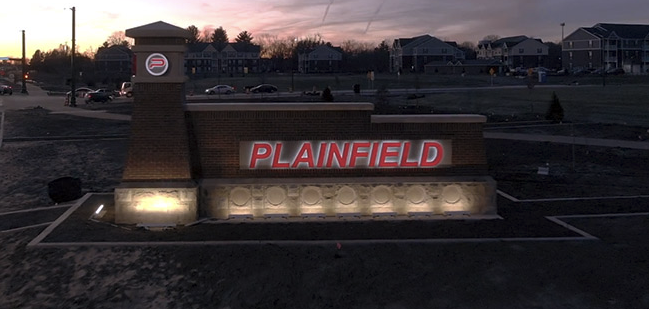 PROFESSIONAL WATER RESTORATION COMPANY IN PLAINFIELD, IN
Restorex Disaster Restoration is a local water damage restoration contractor that is an expert in water damage and specializes in Insurance Claims.
Our team is filled with specialists in water damage restoration and have over 30 years of combined experience in the industry. We provide all our water restoration services to property owners in Plainfield Indiana.
If you need to hire a professional water mitigation company for your home or business in Plainfield Indiana give us a call (317) 792-5987.
See how Restorex Disaster Restoration has helped previous property owners by reading water damage related reviews:
Google Reviews
Yelp Reviews
Facebook Reviews
Restorex can help you with these emergency water damage services:
Judith Lysaker
29. August, 2022.
The guys were great!! On time professional and polite.
Steven Cline
25. August, 2022.
We had a accident that caused major damage to our house, Called Restorex and they came and assessed it the afternoon we called for help. They stabilized the walls and made sure we were safe. The next day Brian was here to tear out carpet and damaged drywall and take away the damaged remains the next day. We felt totally comfortable with Van and Doug who came every day to work on the house. Our house turned out beautifully. I can't say enough about their confidence and total control of the repairs. Every concern we had Brian would say "I'll take care of that", He did all the insurance communication and all coordination of the different required services and it all came together with quality work seamlessly. We would recommend them to anyone who needs restoration, painting, electrical, plumbing, and flooring. They cleaned up every day before leaving and moved all of our stuff around for us. We can't thank them enough.
Chelsea Overstreet
9. August, 2022.
Corbin, Terry, and the team at Restorex are absolutely pros! They helped us when our basement flooded and got the job down right. They also communicated with our insurance adjuster. If you have any restoration needs in your home, they should be your first call and only phone call.
Eva Antonova
6. August, 2022.
Very professional and friendly. Great service, awesome people.
Michael Scisney
21. July, 2022.
Corbin was very professional, polite and was a huge big help in the process of restoration to my basement.
Rebecca Christner
14. July, 2022.
Corbin and his crew were great! Came right away when our basement flooded and worked with our insurance company to help us get it back in order! Highly recommend!
Josh Romine
14. July, 2022.
I had a pipe in my basement ceiling leak and we didn't realize it until the paint on the drywall started to bubble up. I reached out to Restorex to help assess the damage once the leak was fixed by a plumber. It was easy to get in contact with them and they were super responsive. Corbin came out to my house and did the evaluation. He was friendly and very knowledgeable of water damage and the necessary repairs. He explained how to dry out the walls to prevent mold and then explained how I could patch the drywall myself to save some money. He didn't charge for the evaluation. Overall I was very satisfied with my experience with Restorex and I would definitely use them again if I run into an issue in the future.
Lisa Maloney
14. July, 2022.
Corbin came to give me a quote for restoration and was extremely thorough and knowledgeable in discussing my issue with me. He took the time to explain things to me, which my other restoration company did not, and let me know what could be done to remediate. The quote was also significantly less than the other provider. I would highly recommend him based on his knowledge and willingness to help. Seemed to have good ethics and put me as the customer first.
Brett Wood
25. May, 2022.
Top notch company! From the moment I called Restorex, they spent considerable time explaining the process of water remediation, how the insurance claim process would work, and assuring me that this would be handled with care and competence. The crews that came to my house were polite, professional, clean, and very efficient. They worked around my two small children and dogs the whole time, and truly made us feel like they were taking care of us; not just doing a job. They even sent someone over the weekend to check on the equipment and make sure we were doing ok and didn't have any questions or concerns. This company's work was top notch, and they went the extra mile and made us feel like family while they did it all. I can truly say I would never use another company for this type of work.
Joseph Farrell
22. April, 2022.
Restorex was quick to come out after our sump pump float failed to engage the pump. They ran a machine over the basement carpet to try to pull the water out and into the sump pit after the pump was working. Afterwards, they installed about 20 fans and 2 large dehumidifiers for 3 days to continue to dry out the carpet. Very friendly and easy to talk to guys.
TYPICAL WATER DAMAGE IN PLAINFIELD, INDIANA
Restorex works with many customers in the Carmel area who are experiencing water damage from different sources.
The common sources of water damage include:
Sump pump failure causing a basement flood
Water heater leaking or failure
A burst pipe or frozen pipe in a basement
Broken toilet water supply line
Dishwasher failure in the kitchen
Basement Drain Backup
Water damaged ceilings from upstairs water pipe or toilet
Burst bathroom water supply line
Washing machine overflowing
Flooded crawl space from a broken pipe
Sink overflowing onto the kitchen floor
Water Line from Refrigerator Leaking
Anytime a home or business owner has a water damage disaster the first thing on their mind is how much is this damage going to cost and if my insurance company going to help me pay for the damage. Our team specializes in helping property owners understand their water damage and assist them in making informed decisions on making water damage insurance claims. If an insurance claim makes sense for the customer, we assist them through the claims process while also providing emergency water restoration services to their home or business.
CAUSES OF WATER DAMAGE IN PLAINFIELD
Plainfield, Indiana can experience heavy rains and storms that can cause disastrous storm damage to local properties. In the spring and fall months, winds and heavy rains can cause houses to flood and sump pump systems to fail. When it rains over 2 inches in an hour, there can be a lot of property owners who will experience issues with their basements. Also when the storms cause damage to the power lines, sump pumps are not able to remove water from the basement walls, and the water is forced to the point of least resistance, which is inside the basement.
Plainfield homeowners can also experience extremely cold temperatures that can cause many property owners to have frozen or burst water pipes. When the temperatures drop below 15 degrees Fahrenheit there tend to be property owners that experience frozen pipes and lots of water damage.
INSURANCE CLAIMS FOR WATER DAMAGE
Water damage insurance claims can be difficult to understand if you have never filed a claim in the past. Our expert team will take the necessary time to properly inform all our customers of the claims process and guide them throughout the process. Water damage is covered under most property insurance policies.
Restorex works with all insurance companies and has experience with every type of insurance claim. We understand the ins and outs of the claims process and can teach our customers what is and isn't covered in their insurance claim.
We also can help customers understand how to discuss their claims with their insurance agent or adjuster. Sometimes a property owner can misrepresent the cause of the water damage which may result in limited coverage or no insurance coverage.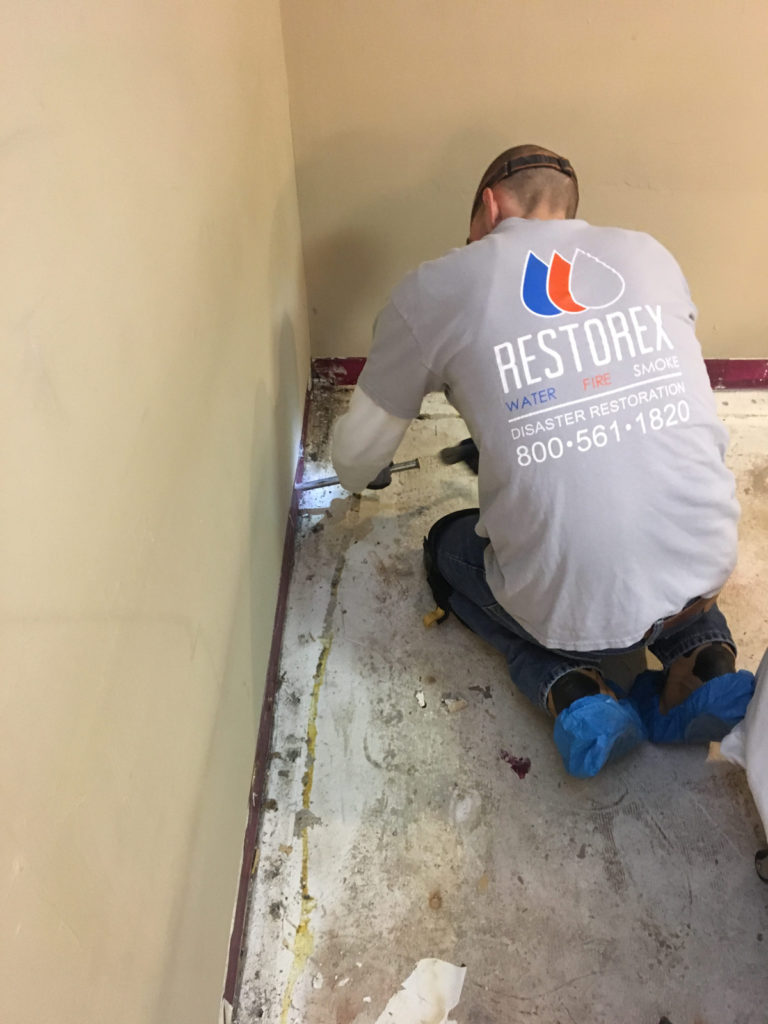 WATER DAMAGE RESTORATION PROCESS
The water damage restoration process can be simply described in 3 steps.
Inspection and Assessment of Water Damage
Emergency Water Restoration Services
Water Damage Repairs and Restoration
 Inspection and Assessment of Water Damage
The inspection and assessment allow our team to see how much water has affected the property and determine the best course of action to recommend to the property owner. Every structure has its own unique challenges, so we like to take the time to discuss in detail with the property owner before we begin the water restoration services.
During the assessment we multiple moisture meters and thermal imaging to discover where the water went and how much of the structure is affected. After determining the amount of water damage, we can discuss the other steps of the process.
Emergency Water Restoration Services
The emergency water restoration services include getting the structure properly dried and cleaned after a water disaster. Any building materials that cannot be properly dried or returned to their original condition, will be removed during this step of the process.
We use water damage drying equipment to get wet structures dried out. This equipment includes:
Low grain refrigerant dehumidifiers
Air movers
Heaters
The drying equipment will remove the excess moisture from the property so there is no secondary damage.
Water Damage Repairs and Restoration
After the drying is complete, the water damage repairs and restoration process can begin. Now, if there is an insurance claim being processed there can be a delay between the emergency services and the restoration. This can be a couple of weeks to a couple of months depending on the size of the water damage.
We usually tell our customers to get as comfortable as possible during these times. We are not in control of the insurance adjusters or their approval process. So once we get our estimates sent we have to wait for their approval process to be completed before the work begins.
The water damage repairs include putting the finished materials back together as before, with like-kind and like quality building materials.
The insurance company will use today's cost dollars to replace the water-damaged materials so the cost of the repairs will not exceed what the insurance is paying. We ensure our customers that the only out-of-pocket expense will be their insurance deductible. All other costs will be directly paid in the insurance claim.
If you are experiencing a water damage emergency in Plainfield, Indiana, and need local water damage professional to help, give us a call at (317) 792-5987.