CALL 317-792-5987 FOR COMMERCIAL WATER DAMAGE SERVICE
Restorex Disaster Restoration has worked with many commercial property owners and businesses over the years when they have experienced commercial water damage due to broken pipes frozen or burst pipes, faulty hot water heaters, sump pump back ups or any other reason you may have water in your building where you do not want it.  The biggest question a commercial property owner is asking when they have water damage is….
How will I run my business or provide services while the water damage restoration process is happening?
Restorex has been able to work with many different types of businesses and property owners over the years and have always found ways to keep businesses and commercial properties operating as efficiently as possible, while the water restoration process is happening.
We do this by communicating with the business owner or manager to figure out what your needs are and how we can operate around you.  In the end, we find the best possible way of moving forward with the water damage cleanup while working around your business needs.
COMMERCIAL WATER DAMAGE INSURANCE
We can help take on the headaches of working with your insurance company.  Our expert team will assemble an estimate and documentation for your claim, submitting it directly to your insurance company, so that all of the water restoration costs will be compensated by your insurance company. We can also help you understand what your insurance will cover and won't cover, and the budget you will receive to make these critically needed repairs.
Restorex uses Xactimate estimating software for all of our water mitigation and repair estimates.  Xactimate is good for the insurance water damage claim process because it gives our company and the insurance company a common pricing structure to begin the scoping process.
We use Xactimate's pricing as a base point for determining scope and total cost, but at times the pricing may need to be adjusted based on different situations and circumstances.  Restorex specializes in handling insurance water damage claims for our customers.  Below are articles that can give some further information about water damage insurance.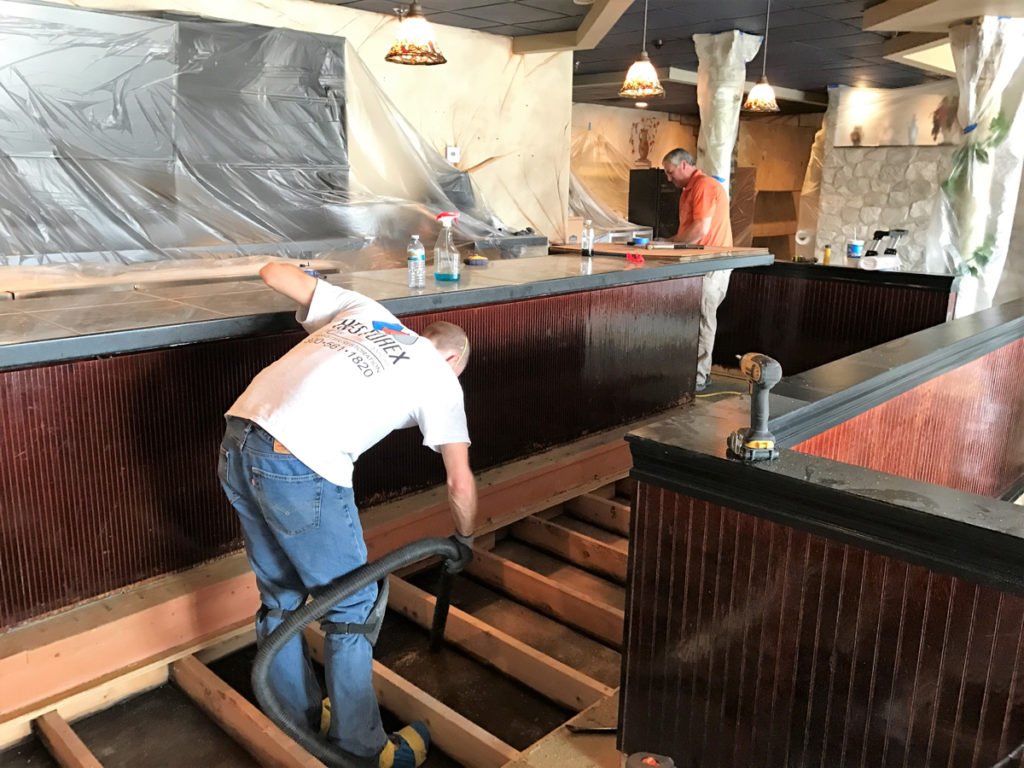 COMMERCIAL RESTORATION SERVICES
Do you need to keep crews working around the clock to fix the damage? We can assess your situation and help you develop a plan that will allow our mitigation and restoration efforts to go on while your business remains open to the public and/or employees.  Restorex has all of the moisture detectment equipment to help you find the extent of the water damage so we can make a plan to get you back to business.  Read about how we investigate water damage.
Restorex has all of the water damage equipment necessary to help you mitigate the damages of your commercial property.  We can help you with…
Do you need our crew to work only in your company's off hours? We can do that too, even it means our crews work overnight. Regardless of the approach, we can help you cordon off damaged areas and ensure your business meets OSHA standards for a safe working environment.
DON'T LET DISASTERS DERAIL YOUR BUSINESS
With fire or water mishaps, you don't just need cleanup. You need someone to correctly assess the damage, think through the details, and help you get quick help from your insurance agency to cover the costs. That's where our expertise makes the difference.
RESTOREX WILL BE YOUR WATER RESTORATION PARTNER
Our expert technicians can deploy to your business 24/7, helping you assess the damage accurately, and provide photographic documentation that can be sent to your insurance agency. We have standing relationships with most of the insurance providers in the Indy area, and understand what kinds of paperwork are required to submit your insurance claim.
MORE THAN A WATER DAMAGE CLEAN-UP SERVICE
We help you do more than just a "surface cleanup." We will help assess the damage not just to your drywall, but the structures and systems underneath it. If needed, we can help you find associated electricians, plumbers, and contractors that can work along with us to get the job done quickly.
CONTACT US TODAY
Our operation is big enough to offer you choice and expertise, but small enough to treat you with a high level of individual attention.
To get an emergency restoration team to your business, contact us anytime.