WATER REMOVAL
Water removal is an essential step to water damage restoration.  Restorex uses several different pieces of equipment for water removal in our customer's homes.  It just depends on the situation which method we will use.  If you are a home or business owner looking for advice or a DIY approach—watch this video on how two pump out a flooded basement.
For the most part, water removal or water extraction, is a simple concept but the equipment necessary to remove the water can be expensive.  The water extraction systems we use most often, are called Hydro-X Extreme Extractor and Vac Pac.  This is the best equipment for removing water from carpet and pad inside homes and businesses.
The weight of the equipment and the point of water suction is the unique part of these systems.  Because we use the Hydro-X Extreme Extractor and Vac-Pac we can typically dry carpet and pad in place.  This saves the home owner the hassle of removing and replacing their carpet affected by water damage. Watch Restorex using the equipment for water removal.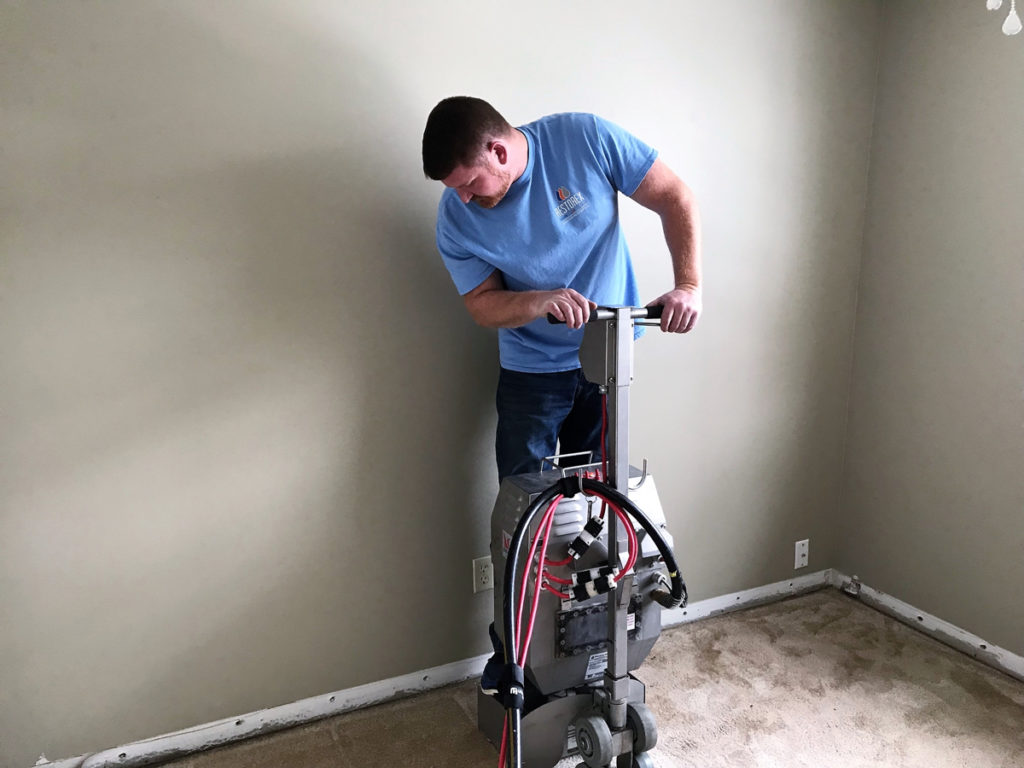 BASEMENT WATER REMOVAL
In the case of a flooded basement where the water has risen above the nap of the carpet, we must use submersible pumps or gas-powered pumps, to pump the water to a level that will allow us to use the Hydro-X extraction equipment.  If the water level has risen to over 6" this requires a much bigger pump or multiple pumps.
For example, a 1000 square foot basement that has water up to 6 inches of water, has over 3700 gallons of water.  This would obviously be impossible with a shop vac or small garden hose pump.
If there is access to the water from outside, the best way to remove the water is with a gas motor driven pump.  The issue with this pump is that it needs to be primed before it starts suction.  This pump can remove a lot of water very quickly.  Here is a video of a 2" motor driven pump.
In the situation where we can't use a motor driven pump, then we will use an electric 2" submersible pump in order to remove the standing water in the basement.  These pumps are very similar to a home owner's sump pump but are designed specifically for water damage situations.  Here is a good video that explains how a 2" submersible pump is used to remove water from a basement.
CATEGORY 3 SEWAGE CLEANUP
When the water damage is Category 3 water or a sewage cleanup, that has contaminants from a drain line of some kind, we have built an extraction trailer for these circumstances.  The suction is provided by a truck mounted extraction system and we have built a custom tank for the water to be collected.  This piece of equipment is used for most of our sewage cleanups and crawlspace flooding cleanups.