Restorex Disaster Restoration is a local water damage restoration company that specializes in flooded basement cleanups in Fishers Indiana.
We are also experts at handling water damage insurance claims. Restorex can work directly with your insurance company to cover the cost of the water cleanup and restoration.
If you need help with a basement flood cleanup in Fishers Indiana and want help working with your insurance company give us a call (317) 315-5071.
When a basement is flooded and a homeowner hires a professional water restoration company to mitigate the damage, there are 5 basic steps to the flood restoration process.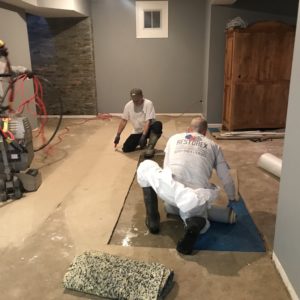 Judith Lysaker
29. August, 2022.
The guys were great!! On time professional and polite.
Steven Cline
25. August, 2022.
We had a accident that caused major damage to our house, Called Restorex and they came and assessed it the afternoon we called for help. They stabilized the walls and made sure we were safe. The next day Brian was here to tear out carpet and damaged drywall and take away the damaged remains the next day. We felt totally comfortable with Van and Doug who came every day to work on the house. Our house turned out beautifully. I can't say enough about their confidence and total control of the repairs. Every concern we had Brian would say "I'll take care of that", He did all the insurance communication and all coordination of the different required services and it all came together with quality work seamlessly. We would recommend them to anyone who needs restoration, painting, electrical, plumbing, and flooring. They cleaned up every day before leaving and moved all of our stuff around for us. We can't thank them enough.
Chelsea Overstreet
9. August, 2022.
Corbin, Terry, and the team at Restorex are absolutely pros! They helped us when our basement flooded and got the job down right. They also communicated with our insurance adjuster. If you have any restoration needs in your home, they should be your first call and only phone call.
Eva Antonova
6. August, 2022.
Very professional and friendly. Great service, awesome people.
Michael Scisney
21. July, 2022.
Corbin was very professional, polite and was a huge big help in the process of restoration to my basement.
Rebecca Christner
14. July, 2022.
Corbin and his crew were great! Came right away when our basement flooded and worked with our insurance company to help us get it back in order! Highly recommend!
Josh Romine
14. July, 2022.
I had a pipe in my basement ceiling leak and we didn't realize it until the paint on the drywall started to bubble up. I reached out to Restorex to help assess the damage once the leak was fixed by a plumber. It was easy to get in contact with them and they were super responsive. Corbin came out to my house and did the evaluation. He was friendly and very knowledgeable of water damage and the necessary repairs. He explained how to dry out the walls to prevent mold and then explained how I could patch the drywall myself to save some money. He didn't charge for the evaluation. Overall I was very satisfied with my experience with Restorex and I would definitely use them again if I run into an issue in the future.
Lisa Maloney
14. July, 2022.
Corbin came to give me a quote for restoration and was extremely thorough and knowledgeable in discussing my issue with me. He took the time to explain things to me, which my other restoration company did not, and let me know what could be done to remediate. The quote was also significantly less than the other provider. I would highly recommend him based on his knowledge and willingness to help. Seemed to have good ethics and put me as the customer first.
Brett Wood
25. May, 2022.
Top notch company! From the moment I called Restorex, they spent considerable time explaining the process of water remediation, how the insurance claim process would work, and assuring me that this would be handled with care and competence. The crews that came to my house were polite, professional, clean, and very efficient. They worked around my two small children and dogs the whole time, and truly made us feel like they were taking care of us; not just doing a job. They even sent someone over the weekend to check on the equipment and make sure we were doing ok and didn't have any questions or concerns. This company's work was top notch, and they went the extra mile and made us feel like family while they did it all. I can truly say I would never use another company for this type of work.
Joseph Farrell
22. April, 2022.
Restorex was quick to come out after our sump pump float failed to engage the pump. They ran a machine over the basement carpet to try to pull the water out and into the sump pit after the pump was working. Afterwards, they installed about 20 fans and 2 large dehumidifiers for 3 days to continue to dry out the carpet. Very friendly and easy to talk to guys.
FLOODED BASEMENT INSURANCE COVERAGE
Restorex is an expert at handling water damage insurance claims for our customers. We understand insurance company's policies and coverages for different causes of water damage. A flooded basement is a common insurance claim for our customers. The insurance coverage can vary depending on the source of the water.
If the water damage was caused by a sump pump failure or sump pump backup, the insurance provider may limit the coverage. We typically see an insurance company limit this type of water damage to $5,000 or $10,000. Every insurance company has different coverages and policies for their customers, so we always recommend our customers to double-check their coverage and insurance deductibles before we start our water restoration services. By knowing the insurance coverage and deductible amount, our customers can make better decisions about how to approach the cleanup and restoration of their home or business.
We reassure our customers that when we are working with their insurance company, all they will be responsible for is their insurance deductible. The cost of the flooded basement cleanup and water damage repairs will be covered by the insurance company.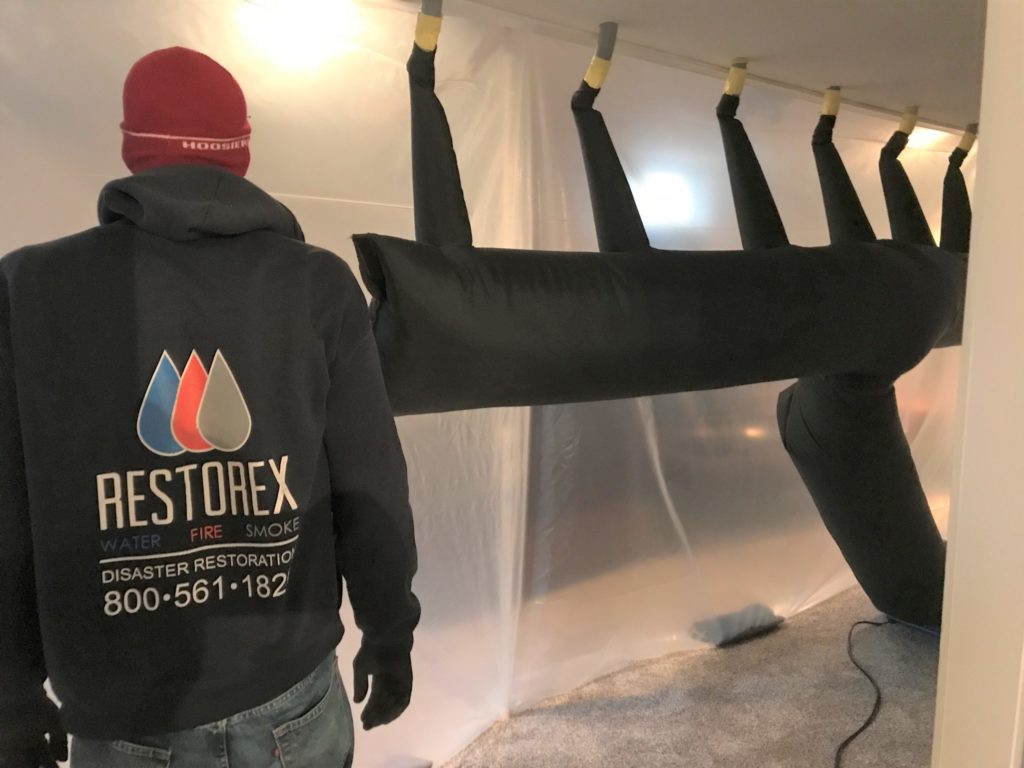 WHAT CAUSES A FLOODED BASEMENT?
There are several ways a basement can flood, and the more common reasons are listed below:
Basement sump pump failure
Sump pump backup
Broken or burst sump pump drain line
Basement floor drain backup
Hot water heater leaking or failure
Water well pipe burst
Flood water from heavy rains
Frozen water pipe on the basement wall
Broken or burst water spigot
When the basement is flooded it is important to find out the source of the water and take immediate action to fix the problem. Usually, a professional plumber is the best person to call to find the plumbing issue and repair it.
STORM DAMAGE, WINTER TEMPERATURES, AND FLOOD DAMAGE CAUSING BASEMENTS TO FLOOD
Storm Damage and heavy rainfall causes many basements to flood in Fishers Indiana. When the rainfall reaches 2 inches in an hour many sump pumps cannot keep up and the water is forced into the basement. Also, when heavy storms bring strong winds, the power lines can be damaged, and the sump pump power can be cut off. When this happens, the water around the basement foundation walls has nowhere to go but into the basement.
Winter temperatures can be hard on water pipes near basements. Many times, water supply lines for kitchen sinks or outside water spigots, will be installed near an exterior wall or window. If the temperature drops below freezing, these pipes can burst from becoming frozen. Once the frozen pipes burst, the water has nowhere to go except into the basement.
If you need a professional flooded basement restoration company to help you with a flooded basement cleanup in Fishers Indiana give us a call (317) 315-5071.