Restorex Disaster Restoration is a local water damage restoration company that specializes in flooded basement cleanups in Plainfield, Indiana. We are also experts at handling water damage insurance claims. Restorex can work directly with your insurance company to cover the cost of the water cleanup and restoration.
We help residential and commercial property owners in Plainfield, Indiana, overcome basement water damage with emergency services and restoration repairs.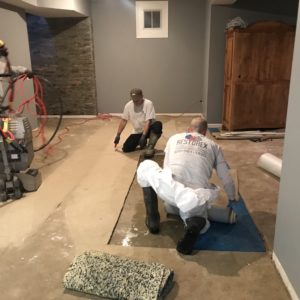 If you need help with a basement flood cleanup in Plainfield Indiana and want help working with your insurance company give us a call (317) 315-5071.
Joseph Farrell
22. April, 2022.
Restorex was quick to come out after our sump pump float failed to engage the pump. They ran a machine over the basement carpet to try to pull the water out and into the sump pit after the pump was working. Afterwards, they installed about 20 fans and 2 large dehumidifiers for 3 days to continue to dry out the carpet. Very friendly and easy to talk to guys.
DANNY ONEILL
16. April, 2022.
Corbin was very informitive, was also very pproffesional and curtious with me each time we spoke or visited. I felt he went above expectations on the entire task at hand. Corbin handled the entire project start to finish and offered additional suggestion along the way to better my problem with the mold. He handled a roof and deck replacement along with remaining mold remediation. I WOULD HIGHLY RECOMEND RESTOREX SHOULD I EVER NEED IN THE FUTURE, THANKS CORBIN! Restorex and Corbin is what services should be. Dan O
Brandon Sanders
8. March, 2022.
Corbin, Terry and the crew went above and beyond to make our worst nightmare turn into a dream come true. We purchased a house in Oct 2021 and 2 hours after closing we had a fire. They were quick to come out and start the process of making our home better than before ! They were very kind and hard working , never hesitated to answer any of our questions or concerns and walked us through the process and even took some matters in their own hands ! As first home owners and our first fire, things were scary, confusing and very stressful! But thanks to them they made the process easy and worked very hard to get us into our home ! They even went out of their way to help get our appliance in the home and hooked up which wasn't expected of them ! They still are responsive and quick to help ! I highly recommend reaching out if you're in need of amazing work and want nice and respectful crew ! Super clean work and overall amazing people ! I couldn't thank them enough !
Terry Sprow
22. February, 2022.
Corbin spent 20 minutes on the phone with us yesterday trying to diagnose a leak situation behind a load bearing wall. He was extremely patient with us while asking us just the right questions to sufficiently solve our problem without even coming to our house. I would not hesitate to call him again or recommend him and his business! He knows his stuff!!
Alicia Parrish
20. February, 2022.
Jessica Goebel
7. February, 2022.
Brian and his crew were Awesome!!! Brian went above and beyond to get our claim covered… It was a long process but Brian was very smart and new all the ins and outs to dealing with Insurance and was very communitive on all aspects!! We would gladly use them again. The guys worked quick and everything turned out great! Very happy!
Eric Kingen
28. December, 2021.
The Restore X team was extremely quick to respond. They were on site that day and had our disaster cleaned up within 24 hours. Terry and Corbin worked with all necessary subcontractors as well as my insurance company to keep the process moving along quickly and smoothly. Very grateful for their prompt response, professionalism, and expertise.
Wendy Hickson
28. December, 2021.
When our sump pump, back-up, and water sensor alarm all failed, and we ended up with water in our basement, we did a Google search and are so happy that we found Restorex! Corbin took my call late on Sunday night and came to our house first thing on Monday morning to assess and make a plan. His crew was out within an hour and immediately got started on getting the carpet removed and their equipment in place to dry everything out. They were all so nice and polite and worked very hard and efficiently. They made a situation no one wants to deal with as pleasant and painless as possible. Hopefully, we never have another flooding situation, but if we do, I will absolutely call them again!
Nathan F
20. November, 2021.
Brian G. was amazing at inspecting our rental unit crawl space. We had some standing water concerns and weren't sure if it had caused damage, needed some repairs, or was okay. He provided some great advice on steps to take next. I was pleased Restorex doesn't try to upsell, and has our best interest in mind. Will definitely use them again!
Mike Eickhoff
4. November, 2021.
Brian Granger and his crew are top notch! We have known him for a couple of years and already liked and respected him. When we had a major water leak he was the one we knew to call and were not disappointed.
When a basement is flooded and a homeowner hires a professional water restoration company to mitigate the damage, there are 5 basic steps to the flood restoration process.
COST OF A FLOOD CLEANUP IN PLAINFIELD, INDIANA
A flooded basement can typically cost between 3,000 to 5,000 dollars for the water cleanup and dry out and the restoration repairs can cost up to $5,000 to $7,000 dollars depending on what building materials were ruined by the water damage. If the water mitigation service is completed on overtime hours, which include after 5 pm or on Saturday, Sunday, or a Holiday the cost can go by 1.5 times, costing between 4,500 and 7,500 dollars.
We always recommend that our customers wait until regular hours for a flooded basement caused by a sump pump backup or failure. The reason is most insurance providers limit this type of coverage to 10,000 dollars. If you use most of the coverage for the cleanup services, then you will be underinsured for the water damage repairs. Our recommendation is trying to get the emergency services to be completed during regular business hours.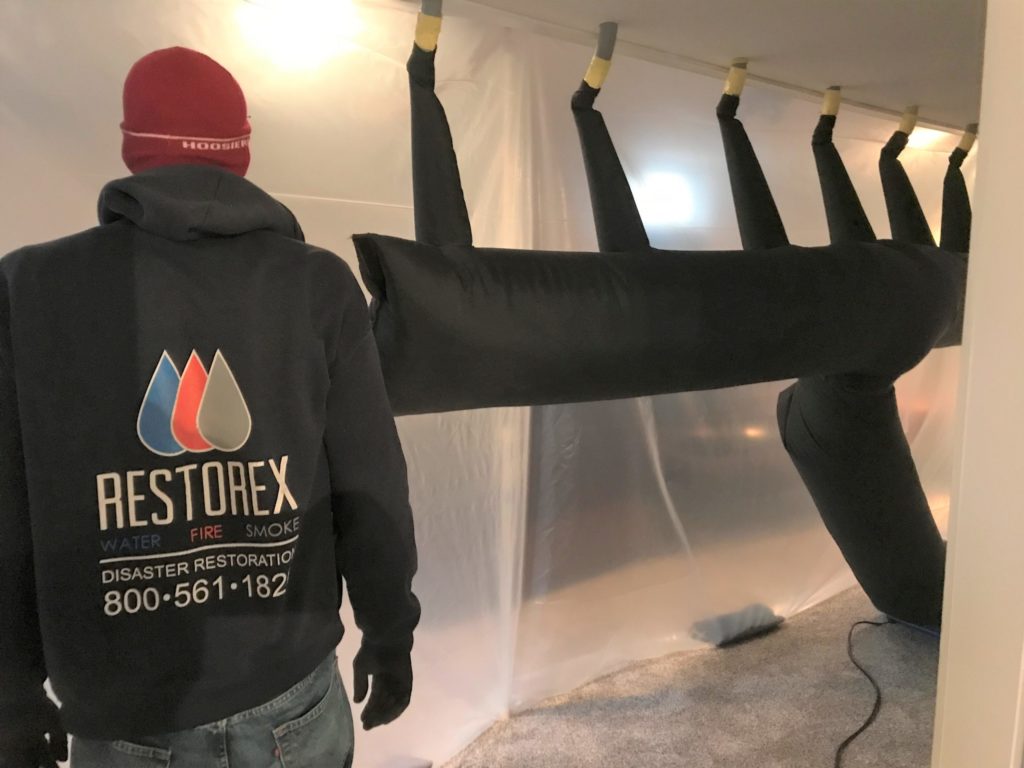 WHAT CAUSES A FLOODED BASEMENT?
There are several ways a basement can flood, and the more common reasons are listed below:
Basement sump pump failure
Sump pump backup
Broken or burst sump pump drain line
Basement floor drain backup
Hot water heater leaking or failure
Water well pipe burst
Flood water from heavy rains
Frozen water pipe on the basement wall
Broken or burst water spigot
When the basement is flooded it is important to find out the source of the water and take immediate action to fix the problem. Usually, a professional plumber is the best person to call to find the plumbing issue and repair it.
STORM DAMAGE, WINTER TEMPERATURES, AND FLOOD DAMAGE CAUSING BASEMENTS TO FLOOD
Storm Damage and heavy rainfall causes many basements to flood in Fishers Indiana. When the rainfall reaches 2 inches in an hour many sump pumps cannot keep up and the water is forced into the basement. Also, when heavy storms bring strong winds, the power lines can be damaged, and the sump pump power can be cut off. When this happens, the water around the basement foundation walls has nowhere to go but into the basement.
Winter temperatures can be hard on water pipes near basements. Many times, water supply lines for kitchen sinks or outside water spigots, will be installed near an exterior wall or window. If the temperature drops below freezing, these pipes can burst from becoming frozen. Once the frozen pipes burst, the water has nowhere to go except into the basement.
If you need a professional flooded basement restoration company to help you with a flooded basement cleanup in Plainfield, Indiana give us a call (317) 315-5071.