WATER DAMAGE RESTORATION SERVICES
Restorex Disaster Restoration is a water damage restoration company that provides professional drying and repair services to customers in Greenwood Indiana.  
We are highly trained at evaluating common water damage issues and our advanced water restoration equipment is able to help our customers overcome any flood and water damage.
Restorex specializes in helping our customers work with their insurance company to cover their water damage restoration. 
Common Insurance Questions?
WATER DAMAGE RESTORATION PROCESS
We can provide emergency water restoration services to help our customers overcome the difficulties of experiencing a flood in their home or business.  
The water damage restoration process requires several restoration services:
Water Damage Inspection
Water Removal
Drying 
Damage Repair    
If you need help with any of these restoration services in the Greenwood Indiana area give us a call (317) 315-5071.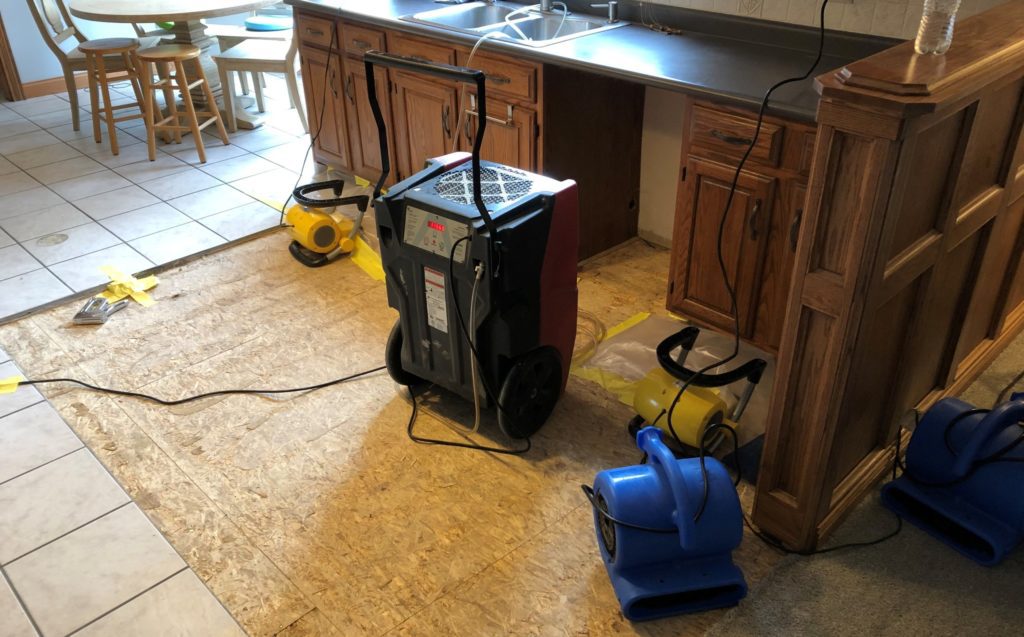 INSPECTION OF RESIDENTIAL STRUCTURES AFFECTED BY WATER DAMAGE
The building materials in a residential structure that can be affected by water damage are plywood subfloors, drywall, carpet, wood baseboards, ceramic tile, cabinets, and or any building material that may be near a source of water.  
The materials that are most prone to mold growth are wood-based building products.  This includes wood floors, laminate floors, cabinets, plywood, drywall, wood studs, and baseboards.  When water is introduced into the living environment these products have a tendency to mold if the damage is not mitigated in a timely manner.
DIFFERENT WATER MITIGATION TECHNIQUES
Every customer who is experiencing water damage requires different water mitigation techniques in order to properly bring their property back to pre-loss conditions.  
Depending on the source of the water damage, it may require more safety measures to ensure our technicians and our customers are safe during the cleanup.  
Sewage is water that comes from a broken drain line or drains back up and it has contaminants that are harmful to humans.  Extra precautions are needed when dealing with Category 3 or sewage water.   Most often sewage is found in a basement flood cleanup or a crawlspace.     
The majority of the time Restorex is working with our customer's insurance company to repair water damage at their property.  There are several nuances to water damage insurance claims and we have worked with all major insurance companies on many different causes of water damage.
For example, a broken water heater is a common source of water damage.  This source is covered by your homeowner's insurance policy.  The only thing that is not covered by your insurance policy is the cost of the plumbing repair or the new water heater.  
All of the water mitigation services and repairs will be covered in the water damage insurance claim. 
Causes of Water Damage
Common things that cause water damage in homes and businesses are household electric appliances and plumbing fixtures that are connected to a water source.  Examples of these appliances and fixtures are:
Refrigerator water line
Leaking Dishwasher
Water Supply Line
Pex Water Line
Toilet Leaking 
Washing Machine Overflow
Water Softener Leaking
Leaking Water Heater
Sump Pump 
Sewage Sump Pump
Sink Overflow
Greenwood's Choice in Water Damage Restoration Company
Our team of highly trained technicians is able to respond to your water disaster in Greenwood Indiana.  
We have provided emergency restoration services to many Greenwood customers over the years and have the expertise to help you overcome a disaster you may be experiencing at your home or business.  
If you need help with water damage give us a call (317) 315-5071.